Eyebrow lamination is a beauty treatment that smooths and holds brows in place, plus deeply revitalizes, nourishes and adds resilience. As a result, they appear thicker, fuller and are perfectly defined. Their shape stays untouched for a long time. Neat, flawless eyebrows for 6 weeks? Only with a kit for permanent eyebrow lift and lamination – Nanobrow Lamination Kit!
Eyebrow lamination – who's it for?
Eyebrow lamination is a great option for everyone who wants to improve the brow look. Specially recommended for those with thin, sparse brows or unruly, unmanageable hairs that stick out. You can easily do it at home without wasting lots of money on salon appointments. Eyebrow lamination will allow you to create the ideal shape and looks of your brows.
If you fill in your brows with a brow pencil, gel, powder or pomade, then you can go for at-home brow lamination as well. It may even let you stop using the fillers unless your brow hairs are very thin or light colored. Eyebrow lamination makes a perfect match with brow tinting and shaping.
What do brows look like after eyebrow lamination?
Laminated eyebrows are smooth, glossy and stay in place, which produces the effect of perfectly-shaped arches. The result lasts for around 6 weeks depending on how fast your eyebrow hairs grow and their individual susceptibility to the ingredients from the applied solutions. Nanobrow Lamination Kit works for 10 uses.
Components in the brow lamination kit Nanobrow
The Nanobrow Lamination Kit contains all products and accessories that are necessary for DIY eyebrow lamination. This eyebrow lift kit includes:
Glue (bottle labeled glue)
Product for brow lifting (bottle labeled Step 1)
Product for holding brows in place (bottle labeled Step 2)
Accessories for at-home brow lamination
Professional eyebrow lamination kit for home use
Brows under control, untouched by the external factors? The Nanobrow eyebrow lift and lamination kit will keep them in the same direction and shape for 6 weeks. The easy-to-use brow lamination kit is the advanced solution which combines brow styling and grooming. It will let you redefine the shape of your brows and keep them in place.
Whether your brows are thick or thin, sparse or bushy, this professional eyebrow lamination kit will produce desired effects! The kit includes all essential products, the activating lotion and the setting solution, plus all necessary accessories for precise application and intense definition added to unruly hairs.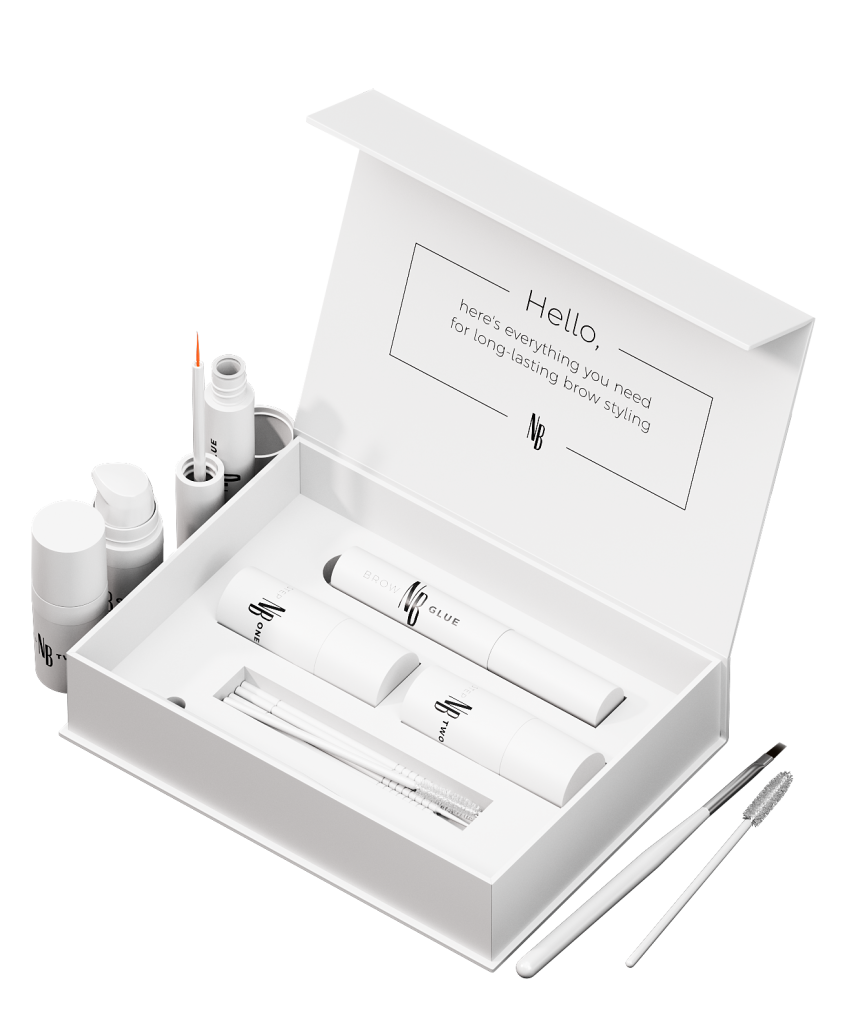 The practical kit for brow lift and lamination from Nanobrow. Find out more about its performance on the website www.nanobrow.us
Easy DIY brow lamination with Nanobrow eyebrow lift kit
Nanobrow Lamination Kit won't take much time to turn thin brows into fuller, defined arches or tame and enhance unruly hairs. The practical and easy-to-use eyebrow lift kit is good even for beginners, leaves brows easier to maintain, plus delivers desired results as if performed by an esthetician. That's achievable at home!
Eyebrow lamination has never been easier. The practical eyebrow lamination kit from Nanobrow includes all that you need to get elegant and glossy brows. The brow glue, lifting and setting solutions, plus necessary accessories define and style the brows, camouflage the gaps and leave brows fuller while the effects last for many weeks.
The permanent eyebrow lift and lamination kit by Nanobrow will keep brows flawless every day so you don't need to spend time doing them every morning. Super cost-effective and at a good price, Nanobrow Lamination Kit can be used for 10 treatments which means stunning eyebrows for long months!