If your skin shows spider veins and is blotchy, you need to find a product that would combat these two concerns effectively, being at the same time gentle on the skin. The choice of soothing face serum is really wide, which on one hand is a blessing but on the other it's a curse. Why curse? Because it's really hard to make up one's mind and pick the product that won't cause a reaction in this already irritated skin.
Luckily, we did this for you and selected top soothing face serums that will help you deal with spider veins and redness in a single step. We have rounded up top care products recommended by skin specialists and regular users.
What treatments may help you get rid of spider veins?
This is a common question and the answer is surprisingly simple. Being gentle and using only mild products is the key aspect. Therefore, you should look for cosmetics that have a lightweight texture (e.g. foams, water-based products), that are made of naturally-derived ingredients and are free from harsh cleansers. Wiping sensitive skin with a face toner twice a day is also beneficial. When it comes to scrubs, you can use them but no more often than once a week. It's also better to choose enzymatic peels rather than mechanical because the former work gentler on the skin. Finally, don't forget to boost your skin's defense mechanisms by using creams with SPF because UV light is one of the external factors triggering skin irritation.
Let's move on to the key skincare product, which is…
Face serum for spider veins
Actually this is the only skincare product able to penetrate through epidermis (indeed, it goes deeper than a face toner or cream) to fix it from the inside. Skin that is prone to vascular lesions needs such treatment because this is how it can be soothed and stay relieved for longer. In general face serums brim with highly concentrated nutrients and moisturizers that make skin better-looking and healthier. On top of that, the formulas often target specific skin concerns, which is crucial especially for sensitive skin. And to enjoy all the benefits of a face serum, it needs to be followed by a face cream to prevent the active substances from leaving skin before delivering the promised results.
Now, when you know why using a face serum is so vital, let's focus on another important issue, which is…
Ingredients to look for in a face serum erasing spider veins
So called couperose skin, which is a skin that shows spider veins and red splotches, doesn't like harsh cleansers like SLS and SLES. Alcohol is another cosmetic ingredient that should be avoided because it contributes to dryness. Choosing a face serum for sensitive skin isn't that hard – you just need to pick the products that are composed of a few ingredients and contain plant-derived substances. The constituents you should look for in a face serum banishing spider veins are extracts taken from:
horse chestnut
licorice
Asiatic pennywort
wild rose
red algae
ginkgo biloba
These are just a few naturally-derived substances that are proven to soothe irritated skin and reduce broken capillaries. Other ingredients that have many benefits for sensitive skin are vitamins C, E and K.
Which face serum works best for spider veins? [TOP 5]
1. Nanoil, Anti-Redness Face Serum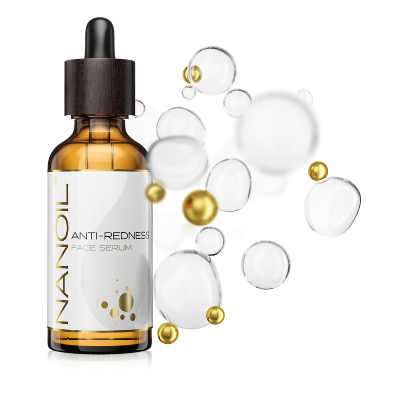 This product is a best-seller, chosen by those who want to erase spider veins without costly in-salon treatments. The desired effects are delivered thanks to the blend of naturally-derived ingredients that Nanoil serum is made from. Another positive thing is that Anti-Redness Face Serum brings instant relief to irritated and reddened skin. When used long-term, this product improves the walls of capillaries to remove them completely. Additionally, the serum creates a protecting coating on the face to help it fight back external aggressors that tend to leave it irritated. Finally, antioxidants in this serum are also enriched with defy ageing. The key ingredients are:
chestnut bark extract that seals and strengthens the walls of blood vessels, reducing their appearance
linden tree extract brings immediate relief and handles inflammation
cypress cone extract manages hydration and nourishment, boosts skin's resistance to irritants
Boerhavia Diffusa root extract is a naturally-derived antioxidant, so it prevents premature aging
The composition is all-vegan. Available in a big size, Nanoil Anti-Redness Face Serum can be applied twice a day. More information on nanoil.us
2. Origins, Mega-Mushroom Relief & Resilience Advanced Face Serum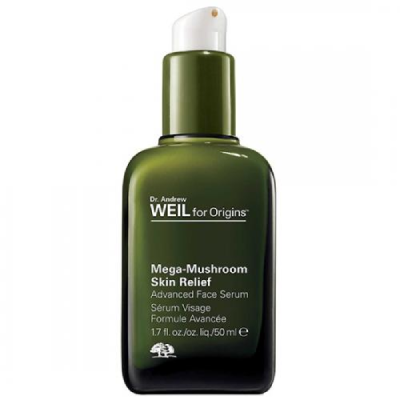 This serum is one of the products that make the whole Mega-Mushroom Relief & Resilience series. In a short period of time it improves the appearance of skin. When used short-term, the serum banishes irritation, but when used longer than for a month, it makes skin stronger and less vulnerable to external aggressors. The formula is natural but fairly long. The key ingredients are:
reishi mushrooms reduce red splotches, deal with inflammation and leave face smoother
chaga mushrooms brighten facial redness
coprinus fungus reinforce skin's natural lipid barrier
sea buckthorn oil seals blood vessels and reduces spider veins
This serum is available in 30, 50 and 100 ml bottles. It can be applied morning and/or evening, is easy to spread all over the face and skin soaks it up pretty fast. Some users complain about the strong aroma.
3. Dr. Grandel, Couperose Expert Concentrate
This serum reduces facial redness immediately. And this is owed to the green pigments added to the formula. Couperose Expert Concentrate is also suitable for mature skin care. It's made up of numerous ingredients that have a positive effect on sensitive skin. The key ingredients are:
purple algae extract strengthens the walls of capillaries
licorice extract erases red splotches and leaves skin brighter
Ginkgo biloba leaf extract delays skin aging and strengthens blood vessels
Copper Peptide Complex repairs damage and improves collagen fibers for supple skin
This is the only face serum included in this list that has cream texture. Even though you need three pumps per application, the product lasts pretty long. For better results, Couperose Expert Concentrate should be paired with a face cream from the series.
4. La Roche-Posay, Rosaliac Anti-Redness Intense Serum
This serum is designed for couperose, sensitive and acne-prone skin. Most of all it brings instant relief, erases redness and prevents it from appearing on the face in the future. La Roche-Posay Rosaliac Anti-Redness Intense Serum formula is short. The key ingredients are:
ambophenol brightens all types of facial redness
neurosensin increases skin's natural defense mechanisms 
thermal water eliminates irritations, leaving skin smoother
This serum is fragrance-free and has a lightweight gel-like texture. It can be worn in the morning because it doesn't have a negative impact on makeup products. However, when introduced into the morning routine, it must be followed with an SPF. You need to wait approximately three weeks to see the effects.
5. Beauté Pacifique, Submersive Sérum Paradoxe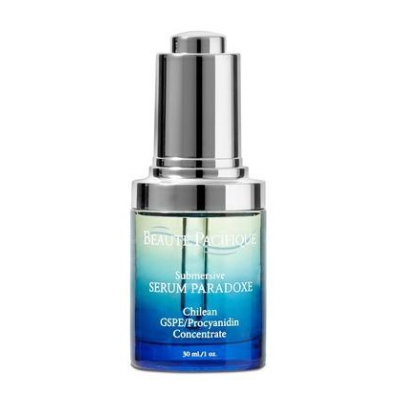 Anti-ageing face serum for sensitive and redness-prone skin. Beauté Pacifique is known for making use of the medicine and cosmetology achievements while designing their product. The same approach was followed while creating Submersive Serum Paradoxe. Not only does it smooth out wrinkles but also prevents them from appearing on the face. This serum also deals with facial redness really well. The key ingredients are:
squalane maintains youthful appearance of the skin and reinforces protective barrier
vitamin E defies ageing, prevents capillaries from breaking and reduces the problem of skin inflammation
Chilean grape seed oil (contains resveratrol and procyanidins) defies aging, fights off free radicals and deals with inflammation
No more than two drops are needed per application, meaning that this product doesn't run out fast. You need to wait a few moments for the serum to penetrate skin fully before applying other care products. Some users point out that Submersive Serum Paradoxe leaves a greasy layer on the face, that's why it's better to use the serum at bedtime, not in the morning like the producer suggests.