Serum has become one of our daily skin-care must-haves. We fell in love with it for the highest concentration of the best ingredients such as vitamin C which brightens, boosts radiance and makes the skin younger-looking. Which vitamin C serum to choose to get the best results? See 7 noteworthy products.
When we run through online statistics, vitamin C products are among top Google searches. It shouldn't be surprising because ascorbic acid is extremely important for the skin. Let's learn more about this valuable substance!
Cosmetic uses of vitamin C
This vitamin shouldn't make us think just of immunity-boosting supplements, treating a cold, strengthening the body, etc. Surprisingly, vitamin C turns out to have plenty of beauty benefits, which was discovered some time ago while testing the effect of ascorbic acid on skin. This has led to the vitamin C boom. Before we reach out for beauty products rich in ascorbic acid, let's see what it has to offer.
Vitamin C is a cosmetic ingredient which has an antiaging effect, brightens dark spots and adds radiance. We do have the stock of vitamin C in the body but after hitting 30 the skin starts running out of it. This is when the unwanted and unstoppable aging process starts off – we get wrinkles and spots, and lose plumpness and healthy shine. Summing up, using a vitamin C skin-care product matters because:
it has antioxidant properties and shields against the free radicals.
it aids the synthesis of collagen which ensures skin's elasticity.
it improves iron and folic acid absorption.
it activates vitamin E labeled as vitamin of youth and beauty.
it strengthens the capillaries which is essential to couperose skin.
it has depigmenting properties, brightening dark spots.
it is an UV filter protecting against photoaging.
Note! Not every vitamin C has the same effect
Only the right form of vitamin C boasts the above properties. If you think that supplements or drinking lots of orange juice is a good way to improve the skin, you're wrong. To enhance the skin you need to deliver the vitamin using vitamin C skin-care products. Too bad they aren't all equally effective.
While shopping for the best product, we usually choose one featuring pure vitamin C (L-ascorbic acid). This is a mistake – pure vitamin C is unstable and it fails to reach the dermis. You can get way better results with vitamin C derivatives stabilized in liposomes or subject to some other laboratory "tricks". The examples include Ethyl Ascorbic Acid, Sodium Ascorbyl Phosphate, Magnesium Ascorbyl Phosphate, Tetrahexyldecyl Ascorbate, Ascorbyl Glucoside, Ascorbyl Palmitate.
If you want to use the full beauty potential of vitamin C, go for a product containing the proper form of the vitamin blended with the right ingredients that intensify its effect. The concentration of the vitamin matters as well and it's the highest in vitamin C serums. Which products should you take into consideration?
TOP 7! The best face serums feat. vitamin C
1. Nanoil Vit. C Face Serum (50 ml/1.69 oz)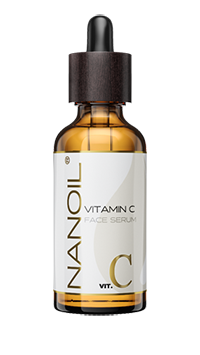 It's surely the best face serum formulated with vitamin C. It's based on a stable form of vitamin C – ethyl ascorbic acid. The acid in the formula comes with Punarnava extract which is a strong antioxidant. The components are captured in an ultra-light serum from Nanoil acting like an elixir of youth. It's recommended for any skin type and age, particularly for treating hyperpigmentation, dull and lifeless skin, and first signs of aging. The Nanoil Vitamin C Serum used regularly in the AM and PM improves the appearance of skin after a few days while the longer several-week treatment leaves the face looking young and flawless. This is the long-lasting effect that we all deserve!
2. Sesderma C-Vit Liposomal Serum (30 ml/1 oz)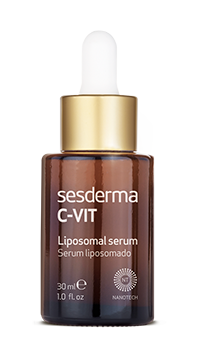 The C-Vit Serum from Sesderma is slightly lower in our ranking. Its high price surely makes us hope for spectacular results. This is an effective skin-conditioning and nourishing serum for dull-looking skin but it fails to give the antiaging effect like serum no 1. Vitamin C is the major ingredient in the formula and it's supposed to reach deep skin layers and work better thanks to liposomes. The serum is quite thick; it can be used in the AM and PM.
3. Alpha-H Vitamin C with Grape Seed (25ml/0.85 oz)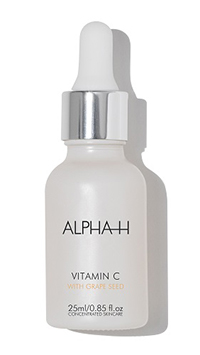 The Alpha-H Serum is the priciest product we show you but the price doesn't mean it gives you the best effect. Vitamin C is the hero ingredient in this formula and it's mixed with hydrating hyaluronic acid and beautifying plant extracts. The components are quite okay, they shield the skin against loss of elasticity, give it a healthy shine and even out the skin tone.
4. Clochee Antioxidant Oil Serum (30 ml/1 oz)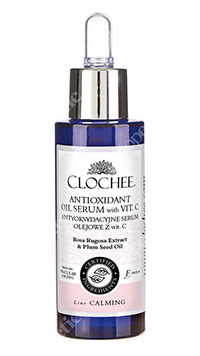 A high-end product popular among women seeking decent vitamin C serums. The antioxidant-rich oil-serum is mostly made up of oils and plant extracts abounding in natural vitamin C. Thanks to components, the serum nourishes the skin and holds up premature aging but it doesn't contain ascorbic acid so it fails to give an intensive brightening or antiaging effect. It can be used in the morning and evening before a moisturizer.
5. The Ordinary Ascorbyl Glucoside Solution 12% (30 ml/1 oz)
The cheapest vitamin C serum in this roundup. The brand's popularity and wide offer for intensive skin care make women reach for this serum. It contains 12% vitamin C in the stabilized form. There are no plant extracts but the formula holds some possible irritants. This is a good serum to lessen dark spots and wrinkles but it doesn't suit all skin types (sensitive skin in particular).
6. Auriga Flavo-C Serum (15 ml/0.5oz)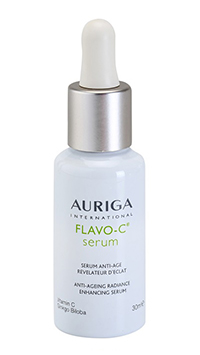 This tiny vitamin serum is offered by Auriga International. The lightweight, well-absorbed formula has a big dose of vitamin C and ginkgo biloba extract which reduces the signs of aging. Because it's mid-range, it's a popular pick among women who want to fight for the young appearance. However, the effectiveness depends on the initial state of your skin and many other factors.
7. Kiehl's Powerful-Strength Line-Reducing Concentrate (50 ml/1.69 oz)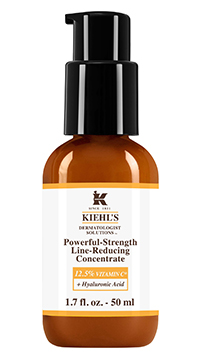 Last of all, a product from Kiehl's – a brand that's quite popular among consumers who like to overspend. The price of this serum isn't encouraging, that's for sure. The brand gives us a lightweight concentrate for brightening dark spots and ramping up the moisture levels. It can be used on any skin type. The formula is based on pure vitamin C which isn't stable. The serum can be applied twice a day.