It seems that natural oils are slowly squeezing regular beauty products out of the market. Among them there is one that appears to be the king of natural oils – Moroccan argan oil. If you haven't heard about it yet, just keep reading. But if you know how argan oil is able to improve hair and skin, but you aren't quite sure which one to choose, it's time to find the best product! Below you'll find 7 argan oils that are worth reaching for. Why? Because they offer the highest quality and the best effects.
Although argan oil is just one out of dozens of vegetable oils that can be incorporated into the beauty routine, it enjoys widespread and absolutely massive popularity. What is its secret?
Argan oil, also known as liquid gold of Morocco
First things first – original argan oil comes from Morocco. This is this very area where people first discovered the health benefits of argan oil to later started discovering its effects on the skin and hair. Nowadays, pure argan oil is called liquid gold of Morocco. Why is that?
It's as valuable as gold – it contains dozens of various nutrients that are hard to find in other natural oils, which makes it a truly precious vegetable oil having a huge beautifying and appearance-improving potential.
It's golden – a high quality argan oil has a golden color and resembles gold, but in a runny form of course.
It costs as much as gold – it's one of the most popular, the most valuable and hardest to get (the traditional extraction process is time-consuming) of all natural vegetable oils, hence its high price. The fact is that pure and genuine argan oil happens to be described as the world's costliest vegetable oil.
What are the properties of argan oil?
Accepting any price for a high quality argan oil pays off because this natural substance takes hair and body treatments to a whole new level.
One of the key benefits of argan oil is that it's an effective antioxidant, and thanks to that it manages to combat free radicals. Apart from this quality, argan oil is a potent heat protection agent, meaning that it prevents hair damage caused during styling. Additionally, having natural UV filters, this natural substance shields skin and hair against the sun and its adverse effects on the human body. Finally, the diversity and richness of nutrients makes argan oil be perfectly able to:
prevent moisture loss.
nourish and revive skin.
repair and strengthen hair.
ease your hair styling.
reduce frizz.
deal with nail brittleness.
smooth out and improve resilience.
preserve the youthful appearance.
Argan Oil: Let's pick the best one
Which argan oil should you choose to enjoy all its benefits on your skin? The most advisable it is to choose the highest quality argan oil, so the argan oil that is cold-pressed and unrefined because only in this way it preserves the most of its priceless nutrients (vitamins, minerals, phytosterols and EFAs). To cut a long story short, if you want to enjoy the best effects, go for the cold-pressed and unrefined argan oil.
If you're shopping for argan oil, always check its origins. Only genuine argan oil comes from Morocco – the origins are the quality guarantee.
Apart from that, you should also check the formula. Is the oil, which you're about to pay for, pure argan oil free from additives such as colorants, fragrances, plant extracts and silicones (often added to hair oils)? The most you will get only if you choose 100% natural oil – the cosmetic that originates from nature.
TOP 7. The best argan oils
Finally, here is the list of the argan oils that deserve the title of the best ones. The list starts with the products that are chosen the most often and are recommended by the experts. Check them out!
1.

ARGAN OIL, NANOIL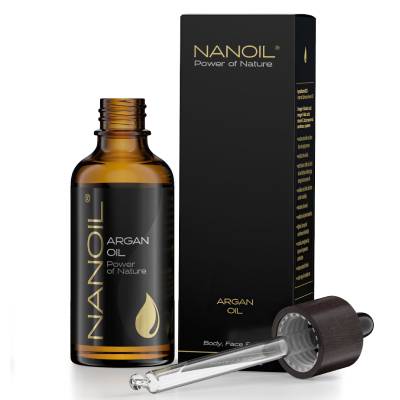 Irreplaceable in skin, face, hair and nail treatments. Argan oil from Nanoil is 100% precious oil extracted from argan kernels, the oil that is cold-pressed, unrefined, organic and certified (Ecocert). It's sold in a nice-looking bottle made of dark glass (50 ml / 1.69 fl oz) that comes with an easy-to-use dropper to facilitate dosing the golden drops that brims with many health benefits. Nanoil's argan oil is nutrient-rich but at the same time it's lightweight, non-overburdening and not too greasy. It needs just a short moment to penetrate skin and hair to soon restore the beautiful, youthful appearance and leave the strands stronger and more resilient. Undoubtedly, this product proves itself to be a worthy replacement for many conventional beauty products, that it's perfect for hair oil treatment and to deeply cleanse your skin. Additionally, it has no equal when it comes to fixing brittle nails and freeing skin from makeup, even waterproof. Undoubtedly, the multipurposeness and the wide range of effects are what is the most astonishing about Nanoil Argan Oil. All you have to do is visit nanoil.us and order argan oil from Nanoil to see for yourself how amazing this beauty product is.
2.

ARGAN OIL, THE ORDINARY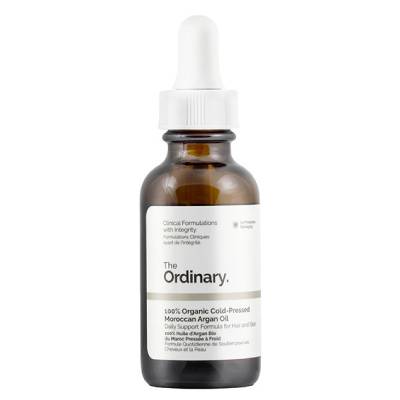 Here is another cold-pressed Moroccan argan oil. The Ordinary, the brand that became famous for its face serums, has expanded its offer with pure alcohol-free and silicone-free argan oil. It's size isn't big (as little as 30 ml / 1.00 fl oz). It's closed in a glass bottle enveloped with a white label. Its dropper is convenient and the oil itself isn't very dense. You can apply this product on dry and sensitive skin as well as on the hair that needs to be smoothed out and strengthened. Although some people might find the aroma of natural argan oil from the Ordinary a bit off-putting, this is the guarantee that this product is free from additives.
3.

ARGAN OIL, MOROCCANOIL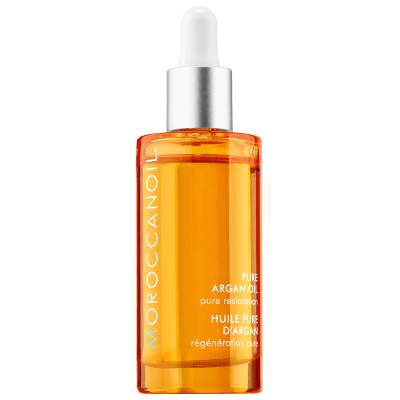 Reportedly, most consumers associate the Moroccanoil brand with its hair care products with argan oil being used as the base ingredient, but fairly recently they have also launched Pure Argan Oil. This pure, cold-pressed and unrefined argan oil is destined for body, face and hair care. In the 50-ml bottle (1.69 fl oz) there are no additives but a good quality vegetable oil. Even though the design of this product is really impressive, it doesn't justify the exorbitant price that has to be paid to get it. In other words, even though Moroccanoil's argan oil costs a bundle, it offers only a nourishing, moisturizing and beautifying effect. The big plus of this product, however, is its silky texture and the fact that it penetrates hair and skin in no time without clogging or leaving oily film. Instead, it creates the feeling of very pleasant velvety smoothness.
4.

ARGAN OIL, JOHN MASTERS ORGANICS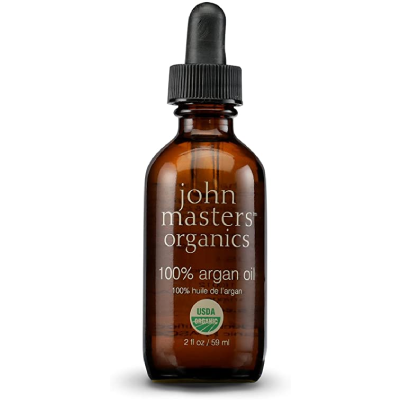 Another argan oil that we're presenting is a top-shelf one that, sadly, costs definitely too much. This oil belongs to John Masters Organics series, famous for producing organic and all-natural products. Here, the 50-ml (1.69 fl oz) dark-glass bottle holds golden-color oil having nutty aroma, whose application is facilitated due to an easy-to-use glass dropper. This argan oil can be used on all hair types and skin, yet it should be avoided by those who don't fancy the heavy nutty aroma. It can't be denied, John Masters Organics' argan oil offers the richness of vitamin E and good fatty acids, and therefore it is efficacious at strengthening, rejuvenating and protecting your body. Finally, it makes skin more supple and improves hair's resilience.
5.

ARGAN OIL, MOKOSH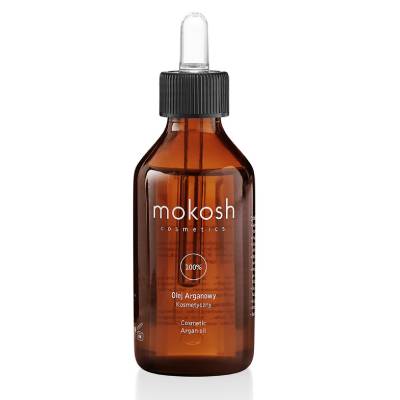 Pure argan oil from Mokosh is an offering for those who are fans of natural semi-finished goods. In the dark glass bottle the producer closed unrefined, cold-pressed and organic argan oil that can be used, for example, as a constituent of homemade beauty products and as an ingredient for customized oil blends, but also it can be used solo. There are two positive features of this product, the first one is its price and the second is the fact that it's available in two sizes: 12 ml (0.40 fl oz) and 100 ml (3.38 fl oz). Mokosh's argan oil is an universal cosmetic oil offering many applications, meaning that apart from putting it on the hair and skin, you can also use it for bathing and massaging. As far as the application of all-natural vegetable oils goes, it's only the imagination that limits its use.
6.

ARGAN OIL, TIMELESS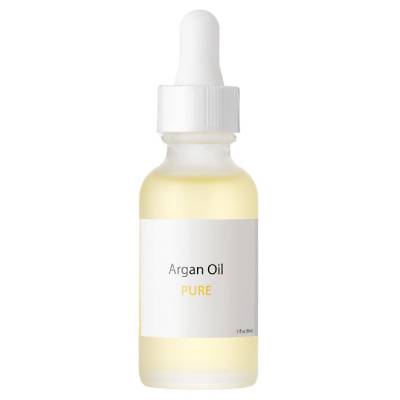 This argan oil signed by Timeless is another quite an interesting offering. This is a truly minimalist beauty product – it's made of fair, frosted glass decorated with a label carrying nothing but the name on it (Argan Oil PURE) and the size (30 ml / 1.01 fl oz). The whole product is white which may evoke associations with hospitals and medicine products. Inside the bottle there is cold-pressed argan oil, that is a potent antioxidant and a source of precious vitamin E. This oil takes good care of skin, deals with moisture loss and protects against aggressive agents. On top of that, argan oil from Timeless eases daily hair routine. When it comes to application, there's nothing complicated about it. All you have to do is massage 2-3 drops of argan oil either into the skin or hair.
7.

ARGAN OIL, OGX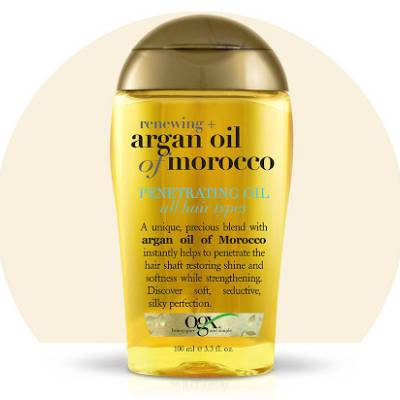 The last offering is argan oil from OGX destined for dry, brittle and unruly hair. It helps smooth out and repair damaged strands mainly because of the key ingredient that this product is made from – Moroccan argan oil. Not only does it penetrate hair in no time but also it delivers nutrients exactly where they are needed most. Unfortunately, OGX's argan oil isn't pure argan kernel oil, but a blend of silicones, alcohols, colorants and fragrances – and this information is given on the packaging. This is why, despite a huge OGX products popularity, this argan oil takes the very last place in this mini ranking that we've prepared for you – there are better cosmetic vegetable oils.