Undoubtedly you must have already heard about keratin and its wide range of benefits for hair. It smooths out and strengthens, but most of all it reverses damage. It shouldn't be anything surprising that Nanoil keratin hair mask is a HIT among beauty bloggers worldwide. After all, having beautiful and healthy hair is a many women's beauty goal, and after reading this article you will know how to achieve it!
Huge popularity that Nanoil beauty products clearly enjoy was easy to foresee. This is a brand that made us fall in love with it mostly for the amazing hair oils destined for all three porosity levels, thanks to which home beauty routine entered a whole new level. Today Nanoil's offer includes more hair products like for example bi-phase hair conditioners, micellar shampoos and masks – among which there is this keratin hair mask that won the hearts of many beauty bloggers. Will it win your heart too?
Nanoil Keratin Hair Mask. Best of the best!
It's time to meet the star of this article – keratin hair mask from Nanoil. This is an exceptionally elegant product that presents itself beautifully in each bathroom. The looks isn't the most important, obviously, because a repair hair mask needs to have a rich composition. In the case of Nanoil Keratin Hair Mask, the ingredients are well-selected and of the highest quality, and the experts confirm that this product offers a well-developed formula. The key ingredient, which keratin is obviously is, was combined with other well-selected ingredients that aid you in winning the battle for beautiful hair, which makes it the best hair mask for damaged hair. If your hair is problematic – brittle, splitting, dry and breakable – and so far you haven't found the right cosmetic that would help it, then keratin hair mask from Nanoil is perfect for you.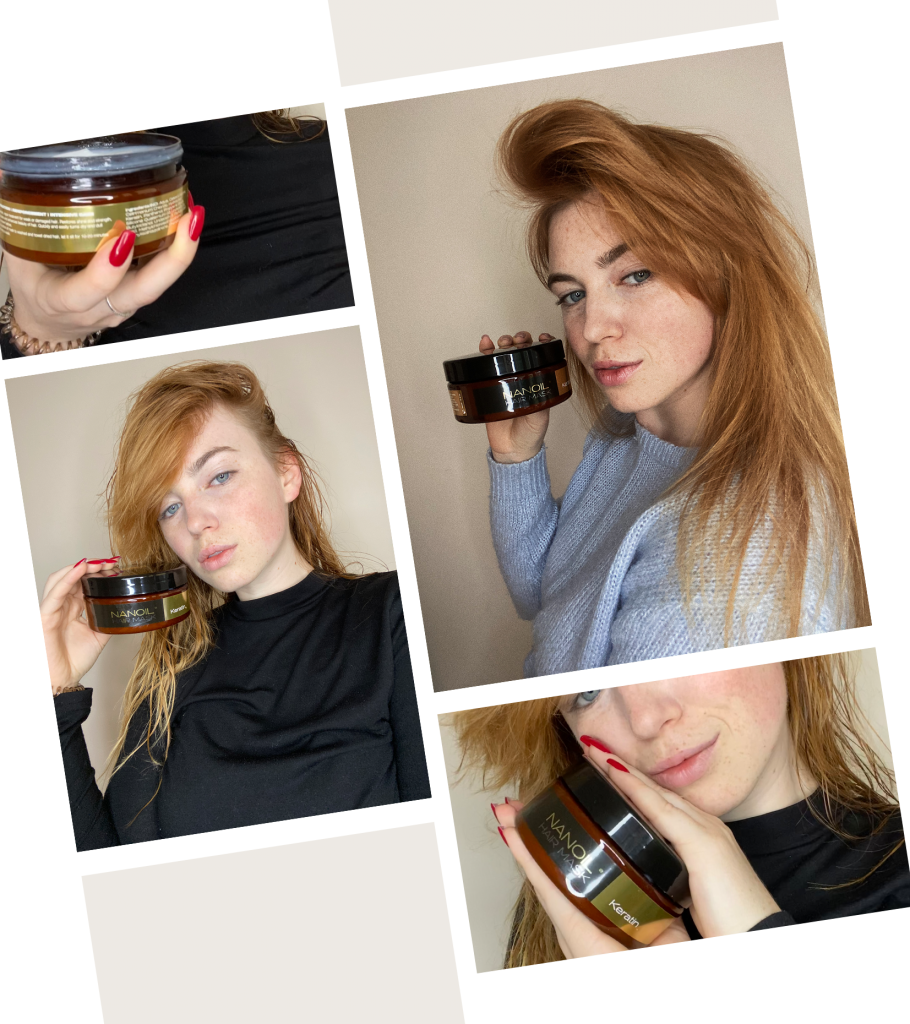 What ingredients is Nanoil mask for damaged hair made from?
The secret of this mask's high effectiveness lies in the formula, of course. This is a lightweight hair conditioning product that doesn't weigh hair down and delivers the essential nutrients exactly where they are needed most – deeply inside the hair. High quality is what matters most in Nanoil Keratin Hair Mask, therefore the list of ingredients is short. The main constituents responsible for delivering the desired effects are:
 KERATIN – protein that repairs hair damage
 PANTHENOL – pro vitamin B5 that moisturizes, nourishes and conditions
 LIGHTWEIGHT SILICONES – make hair smooth and provide protection
Effects and results of using Nanoil keratin hair mask 
The minimalist composition translates into maximally good effects. The users confirm that Nanoil keratin hair mask works better than expected and definitely stands out from its competition because it:
Repairs damaged hair from the inside.
Strengthens the inner structures of hair.
Smooths out and prevents frizz.
Nourishes, moisturizes and revives.
Provides protection from UV, extreme temperatures, etc.
Bring hair back to life.
What is important, Nanoil Keratin Hair Mask works from first use, revealing smooth strands that are super easy to brush. Drying and styling becomes child's play because hair is resistant to frizz, tangling and static. The mask restores shine and keep color bright. With every application, this mask makes hair stronger and more beautiful. And on top of that, it safeguards strands from damage.
The reviews about Nanoil keratin hair mask are enthusiastic!
They prove that just one good hair mask suffices completely not only to repair damaged hair and bring back life to it but also to maintain the adequate levels of hydration and nourishment in hair, and keep the strands in a good shape for long.

How to use Nanoil keratin hair mask? This is simple!
All the amazing effects can be created today without visiting a hairdresser. You can swap costly treatments like Brazilian hair straightening for regular application of keratin hair mask. How to use this product correctly?
Nanoil Keratin Hair Mask is a post-shampoo product. You can customize the treatment by adjusting the frequency of use to your needs – you can do it on a daily basis or every 2-3 times a week. Start with washing the hair, rinse the lather and blot up the water with a towel. Spread Nanoil mask over slightly wet strands, starting from the roots to the very ends. Leave it on for approximately 15 minutes; optionally, you can wrap the head with a warm towel (increases absorption). Finally, rinse it out, dry the hair and style as usual.
The directions for use are the same for all Nanoil hair masks. If you want to try something else than keratin hair repair, you can also reach for:
Nanoil Argan Hair Mask – hair mask enriched with argan oil
Nanoil Liquid Silk Hair Mask – hair mask enriched with silk
Nanoil Charcoal & White Clay Hair Mask – hair mask with charcoal
Nanoil Algae Hair Mask – hair mask with sea algae