Every day our skin accumulates a myriad of impurities in the form of dirt, sebum, smog and makeup residue. When left on its surface, they might weaken its condition. Therefore, cleansing your face the right way is crucial.
Looking for a product that will deeply cleanse, soothe and care for your sensitive skin? Nanobrow Micellar Makeup Remover is the perfect combination of cleansing and conditioning ingredients that remove even waterproof makeup delicately without disturbing the skin's protective barrier. The unique composition of Nanobrow Micellar Makeup Remover which is a mix of aloe vera extract, pomegranate extract and niacinamide, lets you enjoy skin full of natural glow! Learn about its properties.
Nanobrow Micellar Makeup Remover: makeup removal and skin care
Micellar water is the most popular product for makeup removal and skin cleansing. Firstly, it's mild for the skin and doesn't cause irritation even in the case of sensitive skin. Secondly, micellar water is exceptionally effective in removing waterproof makeup. Thirdly, its effectiveness is owed to cleansing micelles – tiny particles that attract dirt like a magnet!
Skin cleansing: the most crucial skincare step
Face makeup removal is a crucial step in your everyday skincare routine. Impurities, dirt, sebum and makeup, even if waterproof, might lead to clogged pores which can result in the formation of acne, irritation, redness and dryness. The lack of proper skin cleansing after at the end of the day, especially if you wear makeup, speeds up skin ageing processes which then loses its natural glow and firmness.
Properly cleansed skin is able to absorb nutrients contained in your favourite serum and moisturizer. In simpler terms, they penetrate the skin's deep layers. It's worth remembering that you should clean your face every day, both in the morning and evening, no matter how much makeup you wear.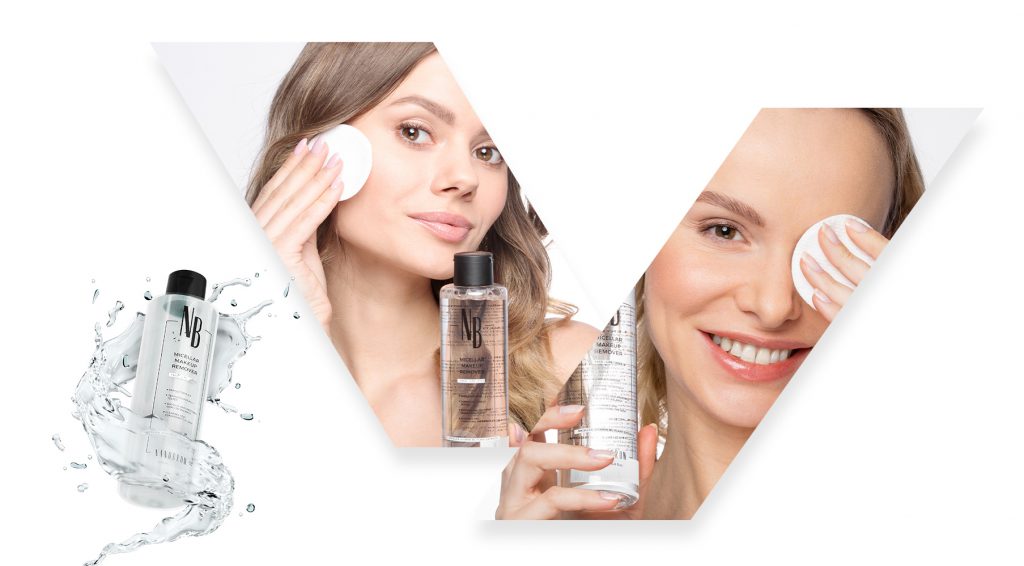 Mild facial cleansing: the power of micelles
Nanobrow Micellar Makeup Remover consists of tiny particles called micelles. Micelle is a structure formed from amphiphilic molecules which have a hydrophilic head and a hydrophobic tail. This allows the micelles to wash away any impurities and makeup effectively from the skin's surface. Micellar water cleanses the face successfully, leaving it soft and smooth. Micelles bind dirt, sebum and makeup and remove them from the surface of your skin. Water and oil don't mix so these impurities cannot be washed away with just water.
Delicate ingredients: aloe vera, pomegranate and niacinamide
Aloe vera, contained in Nanobrow Micellar Makeup Remover is a rich source of A, C and E vitamins that help maintain the skin's healthy condition. It has polysaccharides that form a protective barrier on the skin to prevent water escape and keep it firm and supple. It has an anti-inflammatory, soothing and refreshing effect.
Pomegranate is not an ordinary antioxidant. It contains huge amounts of antioxidants such as vitamin C, vitamin E and polyphenols that help protect the skin against free radicals and prevent premature skin ageing processes. The pomegranate extract may be able to reduce inflammation.
Niacinamide, also known as vitamin B3 or nicotinamide, is a cosmetic ingredient that has many beneficial qualities for the skin. It helps increase skin hydration levels and improve its protective barrier which is extremely important for people with dry and sensitive skin. Vitamin B3 promotes collagen production which is responsible for the skin's suppleness.
The formula for every skin type: dry, oily, sensitive
Nanobrow Micellar Makeup Remover, thanks to its mild formula and carefully selected ingredients is a product for every skin type, even if it's prone to irritation. It also has soothing and toning properties which are crucial in the case of oily and combination skin. The product doesn't leave a greasy film on the skin's surface, it's very gentle and washes away any impurities deposited on your face during the day. Your tired skin is fresh and conditioned and regains its glowy, healthy look.
Naturally beautiful skin is the best trademark – take care of proper cleansing with the new, exceptionally gentle Nanobrow Micellar Makeup Remover!