Did you know that creating protection on the hair before heat styling is an absolute must? Only in this way will you be able to prevent all the awful things that high temperature does to the strands. Wait! What? What "awful things"?—you may wonder. If you haven't noticed this yet, all hot styling tools strip moisture off hair, gradually leading to brittleness and loss of shine. Clearly, it will take more time to damage thick than fine strands, which doesn't change the fact that all types of hair need a kind of thermal shield against high temperatures.
Thermal shield for hair
Thermal shield? I think I don't have time for that, especially in the morning—you may say. Luckily, the cosmetic market is full of various products to satisfy everyone's needs and expectations. And from this vast range of heat protectants, sprays seem to be the best choice because they are the easiest and the quickest to apply.
Apart from the spray bottle, is there anything else I should check before putting a hair heat protectant into my basket? In fact, there is one thing we advise you to pay attention to, which is the product's versatility. Naturally, the very first thing that heat protectant must do is create strong heat protection on your hair—that's obvious. However, it's worth realizing that you can get more than that. In other words, you can—and you should!—expect more from a heat protection spray. The best quality products are also fully able to nourish, moisturize, and condition your strands.
In case you don't know such cosmetics yet, we wholeheartedly encourage you to check out our ranking. Blow you will find only the best picks tailored to everyone's needs.
RANKING OF THE BEST HAIR HEAT PROTECTION SPRAYS
1st place. Nanoil Heat Protectant Spray
If you use a flat iron, curler or a hairdryer regularly, Nanoil Heat Protectant Spray is definitely a product for you. It's able to reduce the risk of brittleness caused by sun exposure or dry air typical of air-conditioned rooms. The super lightweight formula suits everyone without exceptions—it doesn't contain ingredients that some hair types don't tolerate. Instead, it contains natural silk proteins or vitamin E, both known for having a beneficial effect on the strands. Shiny, nourished and moisturized—this is what your tresses will look like thanks to Nanoil spray. No stringy hair and no greasy scalp will ever be your nightmare again! All these qualities make Nanoil Heat Protectant Spray number one product for home and in-salon heat styling.
2nd place. Moroccanoil Protect Spray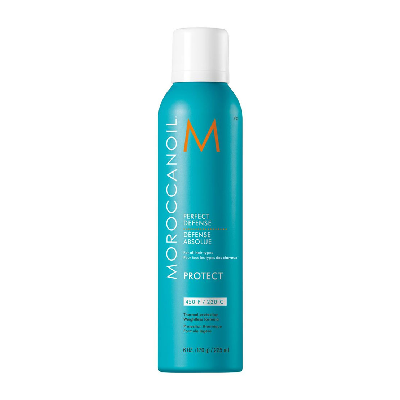 Moroccanoil proves that blending pro-vitamin B5 with argan oil creates a high heat damage protection for hair. Interestingly, this product combats not only high temps because it also increases hair resistance to mechanical damage. Being marketed for the extremely dehydrated and frazzled hair, Moroccanoil Protect Spray seems to be a real lifesaver. It turns unruly and brittle strands into elastic and lustrous tresses. Moreover, the hold it creates endures strong wind, low temps and high humidity. This means that your hairstyle will look great in all conditions. A word of warning for those with heavy hair: be careful with applying this heat protectant because if you use too much, it may cause limp hair.
3rd place. Davines Melu Hair Shield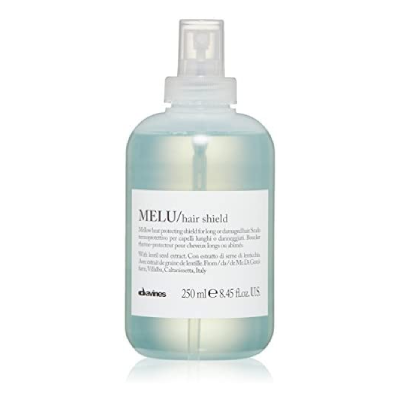 If you have a thing for uncommon ingredients, you may like Davines Melu Hair Shield. Formulated with Villalba lentil seed and rosemary extract, it suits and repairs extremely damaged strands. This weightless mist is good at protecting hair against the negative effects of a straightener, hairdryer and curling iron. What it can do above that is shielding the hair against urban pollution, splitting ends and mechanical damage. Offering strong moisturizing and reviving properties, Davines Melu Hair Shield works like a charm on over-processed strands. Even though this heat protection spray can't be described as budget-friendly, the effects it delivers are truly marvelous. It's pretty costly, though, and that's why not everyone can afford it.
4th place. Z.one Milk_Shake Lifestyling Thermo-Protector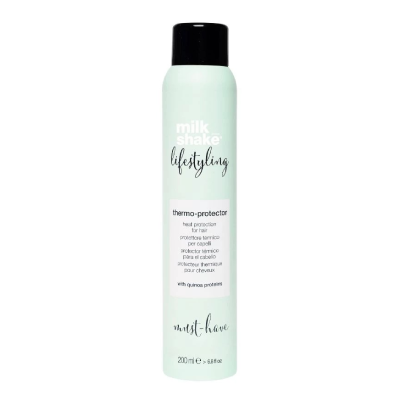 Here is another lightweight hair heat protectant that keeps tresses safe during heat styling. The invisible protective coating stops the ends from splitting and blocks urban pollution from messing up with your hair. The composition includes milk proteins, quinoa proteins and UV filters. This one-of-a-kind combination increases moisture levels for more elastic and shiny hair. After a few uses, strands become far softer and easily manageable. Reportedly, Z.one Milk_Shake Lifestyling Thermo-Protector is a top-choice of those who color their hair on a regular basis. Being able to protect the color from fading, this spray defines the hue like no other. It isn't expected to reduce volume in hair by weighing it down. Lastly, it may be a bit expensive for regular customers, though.
5th place. Evo Hair Icon Welder
Recommended for all hair types, Evo Hair Icon Welder is loved by users worldwide for taking an excellent care of tresses. Being extra lightweight, the formula won't drag your hair down, no matter its type. Actually, it creates an opposite effect, lifting the roots for boosted volume. With this product, your everyday hair styling will become much easier, much faster, and much more exciting. The hold is long-lasting so you don't have to bother about touch-ups. Protected against high temperatures and UV, your strands remain stronger and better-looking. Actually, after just a few uses, they get shiny, pleasant to the touch and sleek. To get these effects, you need to spray your fry hair with Evo Hair Icon Welder before reaching for a hot styling tool.