Attention! Innovation! The first treatment that matches hair porosity. The series of three Nanoil hair oils – the only ones that offer the blend of best natural ingredients for maximum effects. Hair care has never been so accurate before.
Nanoil hair oils have made their debut quite recently and quickly gained huge popularity. They present hair with love. No wonder women love them back. Many of them cannot imagine going back to old hair care methods; hair conditioners have long been forgotten.
Why are Nanoil hair oils for three hair types so popular?
NANOIL: TOUCH OF LUXURY
Do you also like to decorate your dressing table with beauty products? Nanoil hair oils have been created with attention to detail. The manufacturer chose the elegant blackness and golden elements. No exaggerated decorations. Minimalist logo and natural dark wood cork. The combination of luxury and nature will appeal to every woman. After all, we deserve the best!
Each Nanoil hair oil comes in a 100 ml capacity bottle. It is extremely efficient thanks to a precise dispenser with a wide, very comfortable pump.
NANOIL: BEAUTY FROM NATURE
The path leading to the beautiful hairdo is not a bed of roses. On the other hand, it is full of coconuts, avocados, sweet almonds and argan nuts.
Nanoil hair oils offer such natural and most effective ingredients. Each out of the three versions contains the natural and safe components. The basis for each version is a selection of 6-9 vegetable oils. The properties are not the only criterion for the choice of oils. What is the secret of Nanoil products' success? Only Nanoil hair oils contain the ingredients chosen with respect to the content of omega and saturated fatty acids. The oils are free from parabens and silicones, and deliver maximum effectiveness.
The ingredients of Nanoils for hair of different hair porosity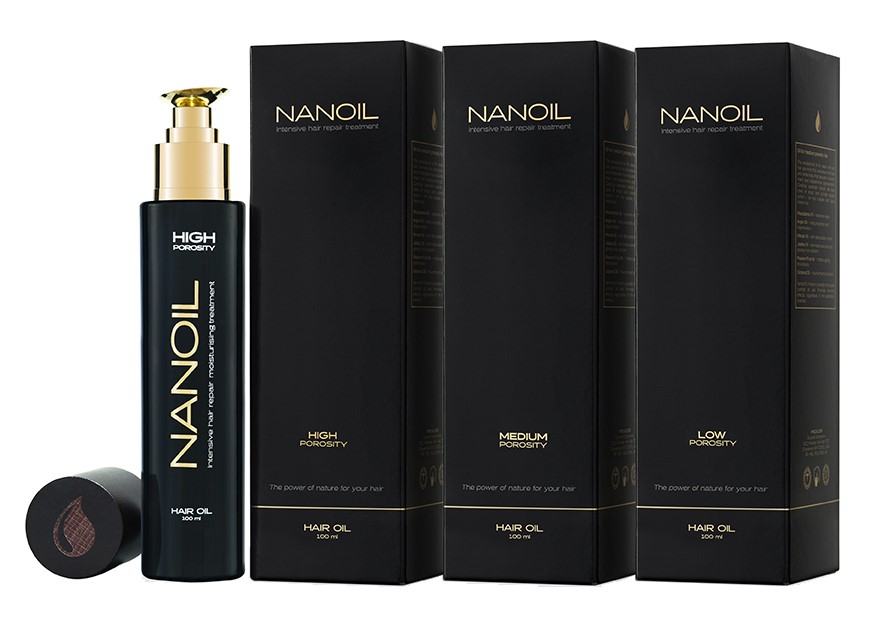 Nanoil for high porosity hair INCI:
almond oil, argan oil, evening primrose oil, avocado oil, maracuja oil, cottonseed oil, vitamin E, silk, lanoline, pro-vitamin B5, UV filter, keratin, kerastim+baicapil
Nanoil for medium porosity hair INCI:
macadamia oil, argan oil, marula oil, jojoba oil, maracuja oil, coconut oil, kerastim+baicapil, silk, sunscreen, vitamin E, vitamin A
Nanoil for low porosity hair INCI:
cedar oil, coconut oil, argan oil, castor oil, shea butter, babassu oil, maracuja oil, monoi oil, cupuacu oil, vitamin A and E, panthenol, kerastim+baicapil, UV filter
NANOIL: ENDLESS POSSIBILITIES
You will have problem finding as excellent product as Nanoil hair oil. It proves that natural hair care brings amazing effects. Nanoil hair oil means endless possibilities.
What are hair benefits of Nanoil hair oils?
Deep, complex and effective action. It is an excellent substitute for popular hair care products. Nanoil hair oil works better than a conditioner: works inside the hair and on its surface. Similarly to hair masks, it provides strong action but it can be also applied to the scalp. It doesn't weigh strands down as other hairstyling cosmetics. Nanoil makes styling a hairdo easier. It is irreplaceable in dry or wet hair oiling and hot oil treatment.
We should mention that Nanoil hair oils work in three areas – (1) on hair surface, (2) inside the hair, (3) in the scalp.
smooth hair surface, add shine, reinforce hydro-lipid barrier, deliver extra protection, increase softness;
strengthen bondings inside the hair, nourish, control the level of moisture in hair;
enhance the work of sebaceous glands, soothe irritation, prevent hair loss, speed up hair growth.
The above-mentioned properties are characteristic for each Nanoil version. Natural vegetable oils bring such effects. If you apply them regularly, they improve hair condition in the long run, without any side effects. Nevertheless, each version of Nanoil hair oils has some characteristics:
Nanoil for high porosity hair
strongly repairs, seals the scales, rebuilds damage, takes care of hair ends
Nanoil for medium porosity hair
defrizzes, delivers moisture, smooths and adds gloss
Nanoil for low porosity hair
facilitates styling, speeds up blow-dry time, protects from the sunlight
How to use Nanoil hair oils?
The endless possibilities are most visible when we take a look at the methods of application. Surely, Nanoil hair oils are the most effective and the easiest to use. Although the main ingredients are oils, the formula is non-overburdening and doesn't make hair greasy (just the opposite!). It can be applied to dry or damp hair; for the whole night or a moment before shampooing; right after washing or during styling; during the day or in the evening before sleep. Free choice in the application is a huge asset. Every woman can match the application method to her needs and time she can devote to hair care routine. The only thing that matters is regularity. Enjoy the beauty of healthy and strong hair after only 30 days.